Public Art Specialist for WPB Sybille Welter & Nortons' Senior Curator Arden Sherman in Conversation w/ Fringe Projects Miami Director, Deborah Lehman Di Capua - The Bristol
Jan 17, 2023, by Invitation · 6pm to 7:30pm
Arts & Conversations
Each opening night will start with cocktails from 6-7:30 p.m., guests will need to register here.
Fringe Projects & Norton Gallery
Fringe Projects is an experimental public art commissioning agency that offers artists the opportunity to realize site-determined projects in the public realm at sites they choose for flexible durations. Investigating downtown Miami's less conventional spaces with context-specific interventions, installations, and performances, Fringe Projects makes extreme efforts to privilege artists ideas and engage in a commissioning process that supports experimentation, field-work and in-depth research of sites and contexts.
Public Art Specialist for West Palm Beach
Sybille Welter
I am the Administrator of Public Art and Culture for the City of West Palm Beach. In this role I facilitate a robust art program (ArtLife) in the public and private sectors. The ArtLife program commissions artists in all stages of their careers to create permanent and temporary artworks
throughout the city's public spaces.
Senior Curator Norton Museum of Art
Arden Sherman
WEST PALM BEACH, FL (September 13, 2022) – Today, the Norton Museum of Art announced that it has appointed Arden Sherman to the role of Glenn W. & Cornelia T. Bailey Senior Curator of Contemporary Art. Sherman will be responsible for overseeing the Museum's Department of Contemporary Art, including the organization of temporary exhibition programming as well as the ongoing research and expansion of the permanent collection through new acquisitions. She will also lead the Norton's Contemporary and Modern Art Council, whose members provide critical support for the Museum's Contemporary Art initiatives and acquisition efforts. Sherman assumes her position on November 14, 2022. She currently serves as Director & Curator of Hunter East Harlem Gallery, a multi-disciplinary space for art exhibitions and socially-minded projects located at
Hunter College in New York City.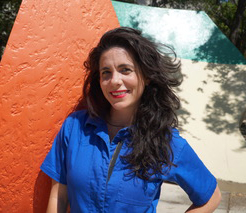 Fringe Projects Miami Director
Deborah Lehman Di Capua
Deborah Lehman Di Capua (b. Miami, Florida) is Executive Director of Fringe Projects, a trailblazer for site-specific work, temporary public art and curator of The Underline, Miami. Deborah is committed to furthering the discipline of public art by presenting new narratives, investigating alternative sites, and creating new ideas at the threshold between art & architecture.